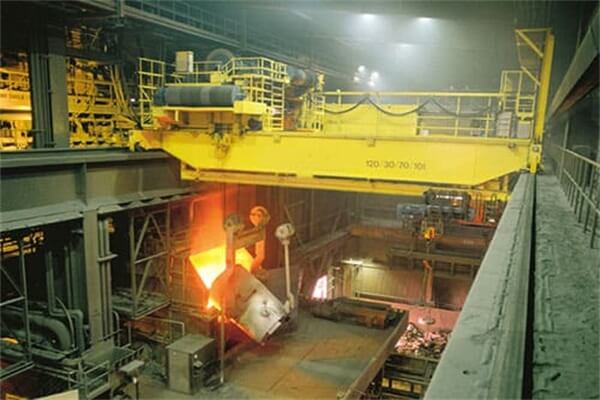 Overhead Crane for Metallurgy
Lifting Capacity: 30~100t
Span: 19.5~28.5m
Lifting Height: 20/22m, 28/32m
Working Class: A6, A7
Product Overview
Overhead Crane for Metallurgy is mainly used for transporting, pouring and charging hot metal in the process of smelting liquid metal, etc.
According to the crane structure, the ladle overhead cranes can be classified into Double Girder Double Rail Ladle Cranes, Four Girder Four Rail Ladle Cranes, and Four Girder Six Rails Ladle Cranes.
Main lifting mechanism of this Metallurgy Overhead Crane can lift goods with fast speed to meet the requirement of efficient production. Advantages of Metallurgy Overhead Crane: safe and reliable, advanced tech, solid structure, economical, long service life and convenient to maintain etc.
Product Specifications
Capacity

T

32/5,50/10

Span

m

10.5

13.5

16.5

19.5

22.5

25.5

28.5

31.5

Lifting height

m

16/18

Lifting speed

m/min

15.6

Trolley travelling speed

m/min

3.36-33.6,2.9-29

Crane travelling speed

m/min

92.7

93.7

86.5

Total weight

kg

15406

17290

20020

21724

24213

28579

31970

35389

Max. Wheel load

KN

104

111

120

125

132

144

152

162

Rail recommended

Model

43kg/m

Total motor power

kw

27.8

31.8

Main dimension (mm)

Span(m)

10.5

13.5

16.5

19.5

22.5

25.5

28.5

31.5

Rail top to crane top

H

1750

1840

Rail top to hook center

H4

55

5

Crane base distance

W

5140

5334

5940

Crane width

B

3450

4400

Trolley rail distance

K

1400

Hook left limitation

S1

800

Hook right limitation

S2

1250