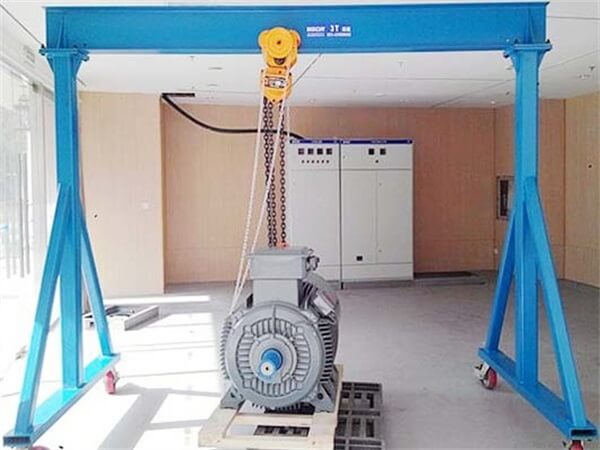 Portable & Mini Gantry Crane
Portable gantry crane and mini gantry crane is widely used in the workshop, warehouse, garage, and many other indoor and outdoor places for it''s equipped with the features of light dead weight and easy operation.
Product Overview
Portable & Mini Gantry Crane is manufactured for lifting equipment, loading and unloading of the warehouse, maintaining heavy-duty equipment and transporting materials, applicable for small and medium factory. Compared with the heavy-duty gantries, this crane is omni-directional movability, fast to assembly and small volume, and is available to move and disassemble from one worksite to another easily.
Suitable occasions
Flat ground, warehouse, logistics center, production workshop, Laboratory, clean room, etc.
Product Features
♦ Light dead weight, compact structure, flexible and small wheel load
♦ Rapid assembly and disassembly
♦ It offers a safe operation environment
♦ Portable design allows for relocation for use in more than one facility or work area
♦ Brake bearing universal wheel can move on the ground, reduce the human power, production costs, and improve work efficiency
Product Specifications
| | | | | | | |
| --- | --- | --- | --- | --- | --- | --- |
| Capacity | t | 1 | 2 | 3 | 5 | 10 |
| Span Length | S(m) | 3~6 | 3~6 | 3~6 | 3~6 | 3~6 |
| Lifting Height | m | 2.5~6 | 2.5~6 | 2.5~6 | 2.5~6 | 2.5~6 |
| Lifting Speed | m/min | 0.8/8 | 0.8/8 | 0.8/8 | 0.8/8 | 0.7/7 |
| Trolley Speed< | m/min | 2~20 | 2~20 | 2~20 | 2~20 | 2~20 |
| Work Duty |   | A2~A3 | A2~A3 | A2~A3 | A2~A3 | A2~A3 |
| Wheel Dia. | mm | ∅150 | ∅150 | ∅150 | ∅150 | ∅200 |