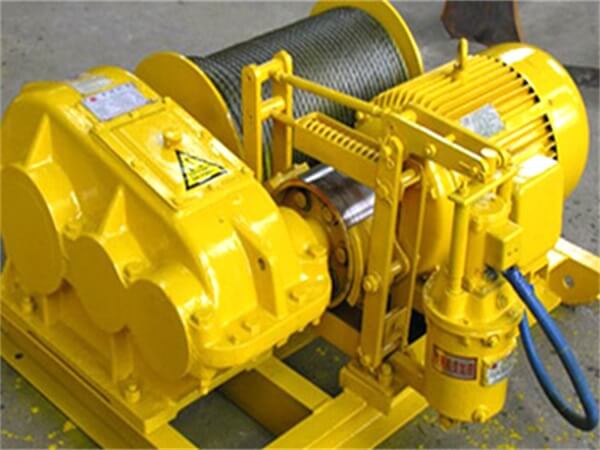 High Speed Electric Winch
Rated load: 5 KN
Rated speed: 22 m/min
Rope capacity: 190 m
Rope diameter: 7.7 mm
Product Overview
High Speed Electric Winch is gear reducer transmission type electric winch.
This series of electric winch is mainly used to drag heavy object or lift material in building construction, it also could be used as lifting unit of crane. Meanwhile, they are also the special purposed winch for derrick, portal frame and lifting trolley.
Control way: push button control, cam control and remote control.
Product Specifications
Type basic date
Rated load
Rated speed
Rope capacity
(m)
Rope diameter
Electric motor type
Electric motor power
(KN)
Orm dimension
(mm)
Weight
(kg)
JK0.5
5
22
190
7.7
Y100L-4
3
620*701*417
200
JK1
10
22
100
9.3
Y112M-4
4
620*701*417
300
JK1.6
16
24
150
12.5
Y132S-4
5.5
945*996*570
500
JK2
20
24
150
13
Y132M-4
7.5
945*996*570
550
JK3.2
32
25
290
15.5
YZR180L-6
15
1325*1335*840
1011
JK3.2B
32
30
250
15.5
YZR200L-6
22
1900*1738*985
1500
JK5
50
30
300
21.5
YZR225M-6
30
1900*1620*985
2050
JK5B
50
25
210
21.5
YZR225M-8
22
2250*2500*1300
2264
JK8
80
25
160
26
YZR210S-8
45
1533*1985*1045
3000
JK10
100
30
300
30
YZR315S-8
55
2250*2500*1300
5100