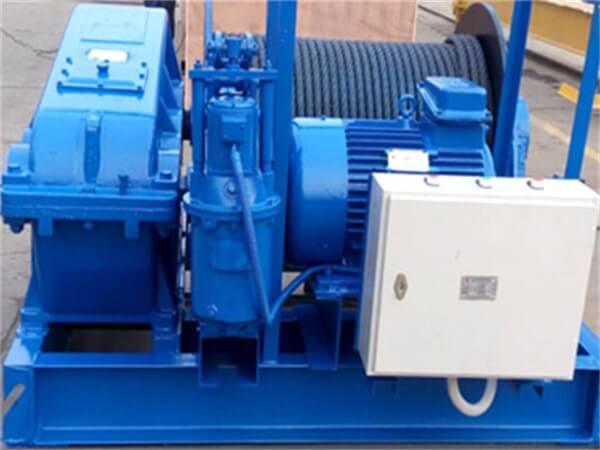 Low Speed Electric Winch
Rated load: 10 KN
Rated speed: 15 m/min
Rope capacity: 100 m
Rope diameter: 9.3 mm
Product Overview
Low Speed Electric Winch is gear reducer transmission type electric winch.
This series of electric winch is mainly composed by drum, motor, brake, reducer, wire rope, foundation, optional rope spooling device, etc.
This winch is mainly used to pull or lift heavy objects in road and bridge projects, civil construction, mining area, factory, port, marine, such as installation and disassembly of all kinds of large or super large size steel structure and machinery equipments, reinforce concrete, drag ships, the features are orderly wire rope, safe and reliable lifting, speed is usually not more than 12m/min.
Product Specifications
Type basic date
Rated load
Rated speed
Rope capacity
(m)
Rope diameter
Electric motor type
Electric motor power
(KN)
Orm dimension
(mm)
Weight
(kg)
JM10
100
8
170
30
YZR200L-6
22
2090*1475*956
3000
JM10B
100
9.5
250
30
YZR200L-6
22
1705*1598*985
3500
JM12.5
125
8
300
34
YZR225M-6
30
2880*2200*1550
5000
JM13.5
135
0-5
290
28
YZP225S-8
22
2990*2363*1650
6500
JM16
160
10
500
37
YZR250M2-6
37
3750*2400*1850
8800
JM20
200
10
600
43
YZR280S-8
45
3950*2560*1950
9900
JM25
250
9
700
48
YZR280M-6
55
4350*2800*2100
13500
JM32
320
9
700
56
YZR315S-8
75
4500*2850*2100
14800
JM50
500
9
800
65
YZR315M-8
90
4930*3050*2250
19500
JM65
650
10.5
3600
64
LA8315-8AB
160
5900*4680*3200
46000